We provide you with professional support
With our services in relation to project work and our technical consultation, MÜPRO offers you skilled support for the professional implementation of your projects.
For a tailored solution to your project, our engineers create software-aided designs and corresponding layouts. During the course of the project, we supply you with bills of quantities, tender specifications and part lists. Our experts are always there for you on site as points of contact with our assembly and construction site support during construction, while on-time supply to your construction site ensures maximum planning reliability.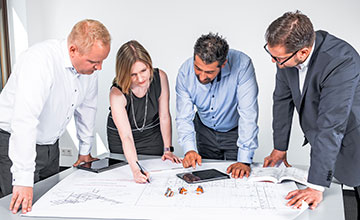 Development of individual designs
Development of fastening proposals tailored to your requirements in accordance with static requirements, vibration control (pursuant to DIN 4109 and VDI 4100) and fire protection requirements (pursuant to DIN 4102 part 4) and approvals

Layout and software-aided creation of designs

Performance of tests by our engineers in accordance with general building authority approvals

Technical support
For preliminary structural analyses and dimensioning as well as with the application of products in compliance with certifications

In relation to vibration control, fire and corrosion protection
through qualified application specialists and engineers during construction at your site
Provision of data, documents and software
Detailed tender specifications and BIM data is available free of charge whenever you need it in the MÜPRO BIM/CAD library

We provide you with order-related material extracts and part lists relevant to fastening and create bills of quantities.
We use and offer a variety of proprietary structural calculation programs to ensure a practical solution for your fixing tasks, available free of charge in the form of a software package, an app, or for use directly in your browser.
Certifications, test reports and other technical documents are available for download here any time you need them