We support Tafel Hattersheim-Hofheim and the wünschdirwas association

We are aware of our responsibility towards our fellow human beings. We are therefore committed to supporting our society through specific measures – both locally and nationally.

These include our support of Tafel Hattersheim-Hofheimer with donations in kind and money for many years. It is located close to our company headquarters in Hofheim am Taunus. We are a supporting member of the wünschdirwas association in Cologne, which helps seriously ill children and teenagers to fulfil their dreams.
Tafel Hattersheim-Hofheim
MÜPRO has been supporting Tafel Hattersheim-Hofheim for many years, an organisation belonging to the Caritas Association for the District of Main-Taunus. The aim of this non-profit organisation is to pass on high-quality food that is no longer used in the economic cycle to people in need. This is carried out either directly by distributing food to the needy or indirectly by supplying institutions that will distribute the food to people in need. The food is given away free of charge or for a symbolic amount.

Tafel Hattersheim-Hofheim relies on food donations – from retailers, grocery shops, discount supermarkets, bakeries and farmers in the local area – as well as on financial donations and complimentary services. Around 100 volunteers also support the organisation.

Tafel Hattersheim-Hofheim was set up in autumn 2005 due to the growing problem of poverty. Today, it supports around 900 people from the western Main-Taunus district, around one third of whom are children.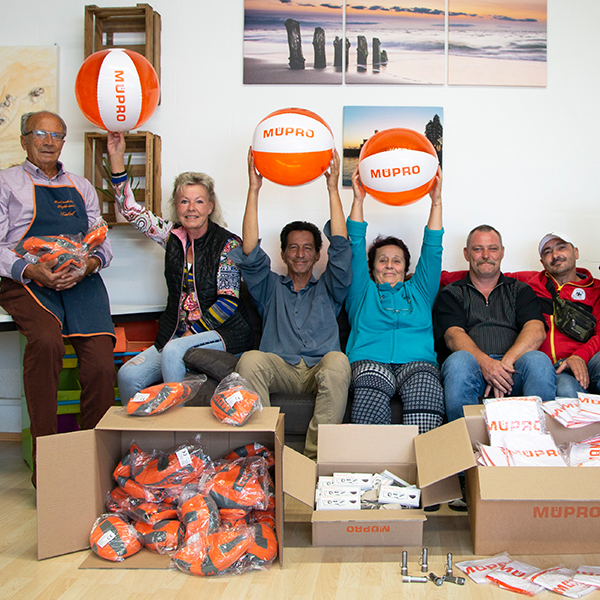 wünschdirwas e.V.
wünschdirwas e.V. is a non-profit organisation based in Cologne, whose volunteers and employees have been helping serious ill children and teenagers to fulfil their dreams for over 30 years. Its goal is to provide a new sense of life, energy and confidence through unforgettable and beautiful experiences, and simply to enable the children forget their illnesses for a short time.

wünschdirwas e.V. collaborates with doctors and healthcare professionals at over 100 hospitals, children's hospitals and hospices in almost every federal state in Germany. wünschdirwas has fulfilled over 8,000 dreams since its foundation in March 1989. These include many popular dreams, such as being a princess for a day and the chance to meet the German national football team, as well as more unusual wishes such as petting a kangaroo or riding an elephant with Grandma.